A Milano-Torino cocktail is an easy Italian drink recipe made with just 4 ingredients. Also called an Americano cocktail, this beverage highlights citrus, Campari, and sweet vermouth.
Why You Will Love This Recipe
I am loving Italian cocktail recipes that are not widely known, such as this Angelo Azzurro Martini!
The Milano-Torino cocktail, also known as the "Mi-To" or "Milan-Turin," is a classic Italian aperitif that dates back to the 19th century.
Its name refers to two main cities in northern Italy: Milan and Turin.
The cocktail's history is closely linked to the creation of the iconic Italian bitter liqueur, Campari.
A Milano-Torino is fast and easy to make, and can simply be made in a glass over ice without any shaking.
Ingredients
Campari: Campari is a renowned Italian bitter liqueur known for its vibrant red color and distinctive bitter-sweet flavor profile. It is made from a secret blend of herbs and spices, creating a unique taste that sets it apart from other liqueurs.
Sweet Vermouth: Also known as red vermouth, sweet vermouth is a fortified wine that has been infused with various botanicals, herbs, and spices. It imparts a rich, sweet, and aromatic character to the cocktail, balancing the bitterness of Campari.
Lemon: The lemon wedge brings freshness and a touch of citrus to the cocktail.
Club Soda: An optional ingredient, the club soda is a great way to slightly lighten the flavor of the cocktail and bring a bubbly texture. Some say the addition of club soda makes it specifically an Americano.
Modifications
This Mi-To cocktail is normally made without club soda. But you can add club soda to technically make an Americano!
Not to be confused with the coffee Americano, which is espresso with a lot of water added to it to make it lighter, like American coffee.
When using the club soda or sparkling water, use as much or as little as desired. A splash is traditional, but adding more will make it a little lighter and more bubbly.
FAQs
What does a Milano-Torino taste like?
This cocktail has a citrusy, slightly bitter flavor.
What is in Milano-Torino?
A Mi-To cocktail is made of Campari, sweet vermouth, lemon, and sometimes soda water.
Why is it called an Americano cocktail?
This cocktail got its name because it became popular with Americans living in Italy!
What is the difference between Milano-Torino and Negroni?
A Negroni also has sweet vermouth and Campari, but uses gin instead of soda water.
What is the difference between Milano-Torino and Americano?
An Americano is the Milano-Torino with soda water included.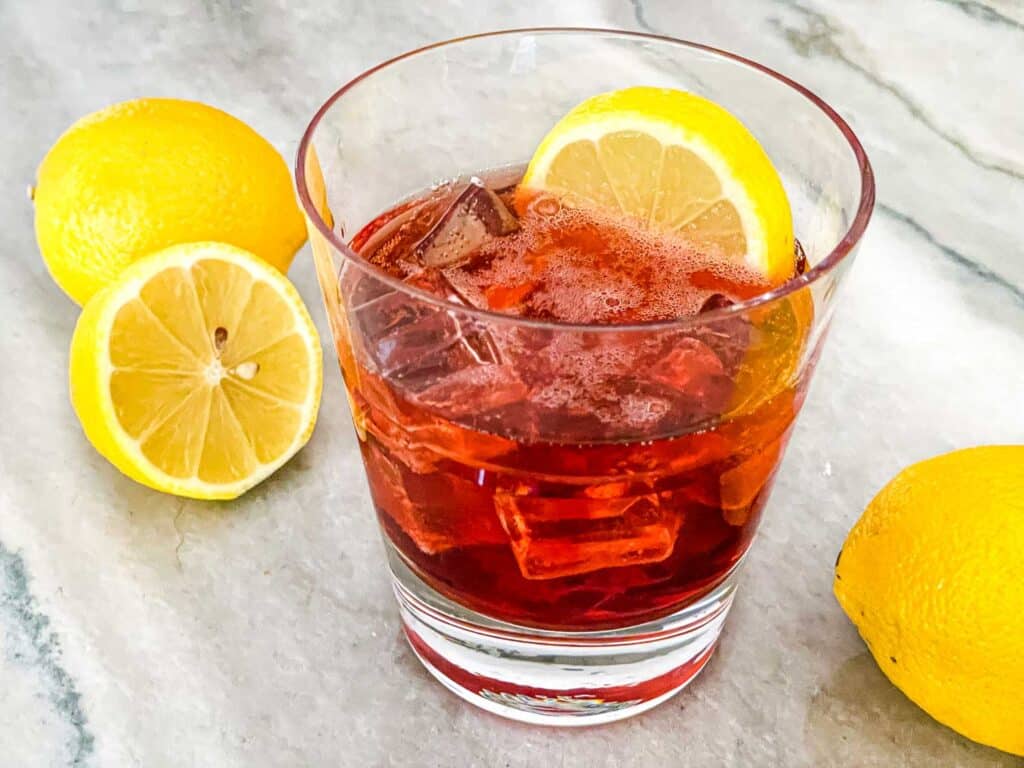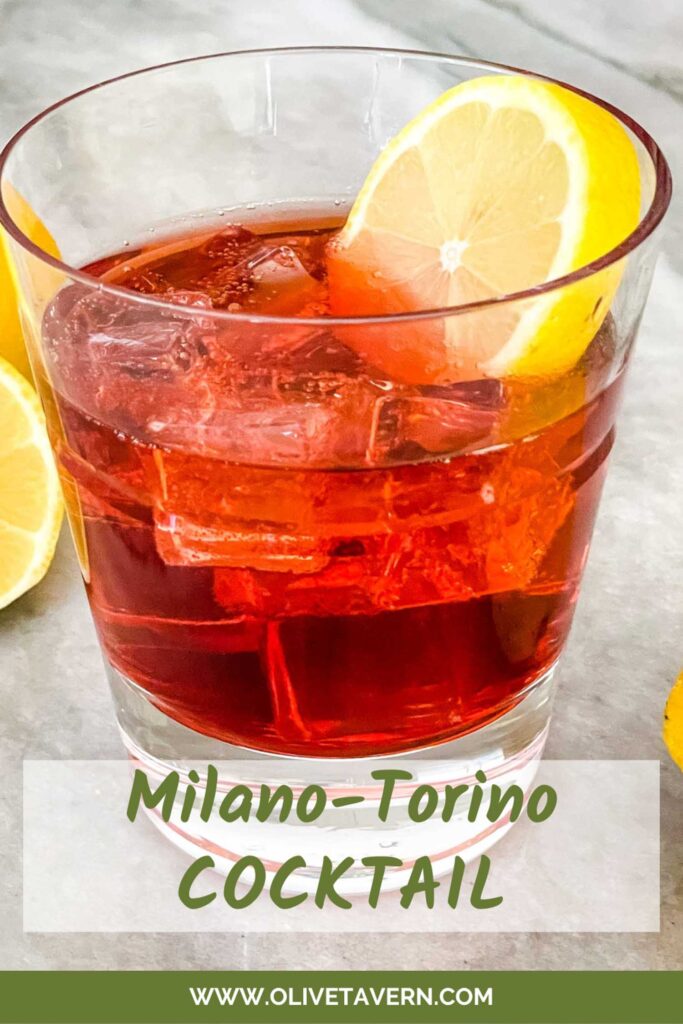 More Italian Cocktails
Photo Credit: www.threeolivesbranch.com
Photo Credit: www.threeolivesbranch.com
Milano-Torino
This Milano-Torino cocktail (Mi-To) is a classic Italian drink with just a few ingredients. Citrus and bitter flavors from Campari and sweet vermouth, also called an Americano when using sparkling club soda.
Ingredients
1 ½

ounces

Campari

1 ½

ounces

sweet vermouth

club soda

optional

1

lemon wedge
Instructions
Fill your drinking glass with some ice.

Pour the Campari and sweet vermouth over the ice.

Add a splash of club soda, if using. Use as much as desired.

Add the lemon wedge and serve.