St Patrick's Day Jello Shots are a fun way to celebrate the holiday with layered gelatin in green, white, and orange that is spiked with whiskey. Sláinte!
Why You Will Love This Recipe
St. Patrick's Day Jello Shots are a fun and festive way to celebrate the Irish holiday.
These colorful and creative treats are typically made using gelatin and alcohol to create a party-friendly dessert that's both visually appealing and enjoyable for adults.
These shots are made in layers like the Irish flag in individual serving cups.
Ingredients
Green Lime Gelatin – to give you green
Orange Gelatin – to give you orange
Unflavored Gelatin Packets – you need this for the white to set. You can find this near the flavored gelatin in the baking section of the store.
Whiskey- I love using whiskey to add to the Irish theme! You can also use vodka, citrus vodka, tequila, or clear rum if desired.
Sweetened Condensed Milk – This is what we are going to use for the white! I was going to use Bailey's Irish Cream for the white but it sets in a tan color. And I could not get it white even with a TON of white food gel.
Water
See the full recipe card at the bottom of the post for all quantities.
Since this recipe is meant to be served in cups or shot glasses, we do not need to make the gelatin as firm like we would for other cut out Jello shots.
Some people do not like the texture of the firmer Jello, and some do not like the white layer. But I find that this is rather rare!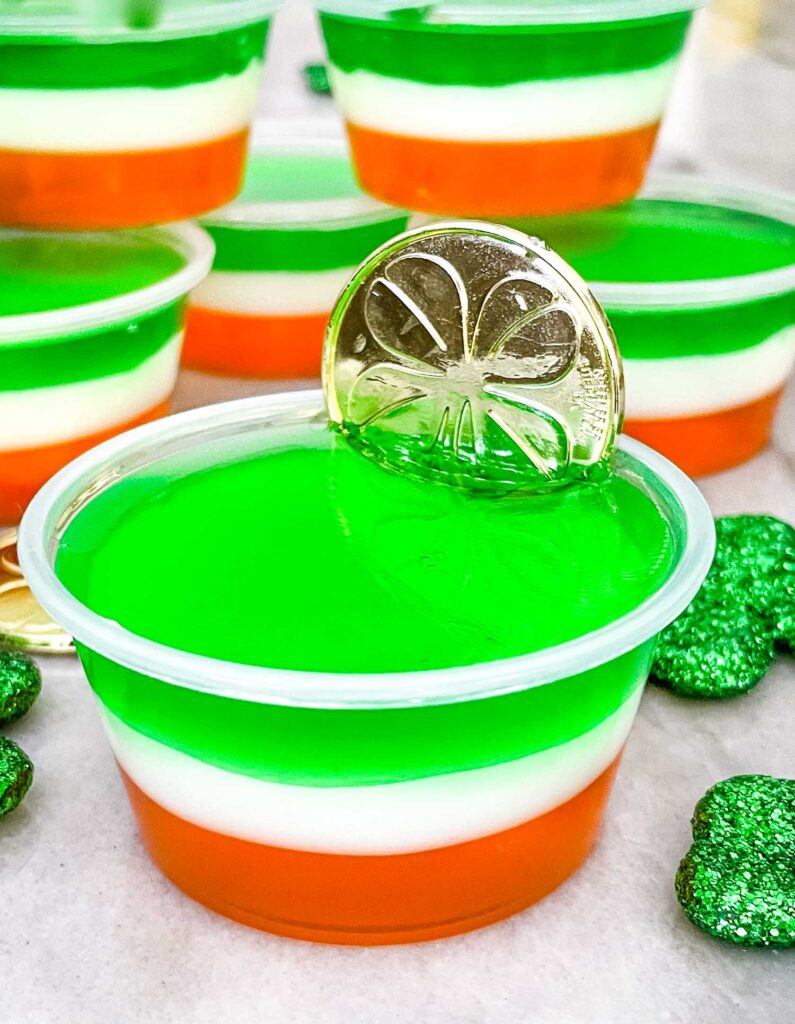 Instruction Overview
You can choose to make these layered Jello shots in small plastic cups (a classic way!) or in shot glasses. I find the double tall shot glasses are beautiful for this layered effect! But the tall glasses are a little more tricky to eat!
The classic way to make Jello shots is in two ounce plastic cups that are easy to use.
And surprisingly, they both hold about the same amount of gelatin!
Start with orange for the bottom of the shot, to replicate the order of the flag.
Melt the orange gelatin mix with hot water, then add the whiskey.
Pour into the shot glasses/cups and chill until set. Depending on the exact size of your cups or glasses, this will be about 1.5 Tablespoons for each color.
Make the white layer by dissolving the unflavored gelatin in the sweetened condensed milk.
Then pour your white layer in each cup and chill to set.
Repeat the orange process with green.
Your Jello shots are now ready to be served!
FAQs
How do you make St Patrick's Day Jello shots?
For a layered shot, each color is made one at a time and poured into your cups to chill.
How early should you make Jello shots?
Ideally the closer to the event the better, but they will be great up to three days in advance.
What is the best alcohol to use for jello shots?
Vodka is a classic because of its neutral flavor and color. For this recipe we also like to use whiskey for the added Irish vibe!
What is the most alcohol you can put in jello shots?
You will want to follow the recipe for how much alcohol you can put in. If you put in too much, it will not set. The amount will vary based on the quantity of the batch you are making and if you add extra gelatin.
Do jello shots get you drunk?
You would need to eat a LOT of Jello shots for them to give you any effect. There is very little alcohol in a Jello shot.
More Irish Cocktails
St Patrick's Day Jello Shots
These festive St Patrick's Day Jello Shots are a perfect Irish shot recipe for the holiday! Layered in orange, white, and green with whiskey for a beautiful alcoholic shot.
Equipment
2 ounce plastic cups

Small Pot

Small Bowls

Spoon

Measuring Cups
Ingredients
3

ounces

green gelatin

3

ounces

orange gelatin

7

ounces

sweetened condensed milk

(approximately half of one can)

2

envelopes

unflavored gelatin

can be found near flavored gelatin in store (1/2 ounce total, or 5 teaspoons)

1

cup

whiskey

6

cups

water
Instructions
Combine 1 cup of water and 1 cup of whiskey together in a measuring cup. Place in the refrigerator to chill.

Bring 3/4 cup of water to a boil.

When boiling, measuring out 1/2 cup of the boiling water and add to a small bowl with the orange gelatin powder. Stir until the powder is dissolved.

Add 1 cup of the chilled water whiskey mixture to the orange gelatin. (You will have 1 cup left for the green).

Line up your plastic cups on a baking sheet for easy transport.

Pour the orange gelatin into your plastic cups, approximately 1.5 Tablespoons each.

Chill the orange gelatin until set, approximately 2 hours.

When the orange is set, put two cups of water in the pot with the unflavored gelatin powder. Let the powder soak for a couple minutes.

Heat the water over low until the gelatin is dissolved, about 5 minutes.

Remove from heat and stir in the sweetened condensed milk. Let it cool a little so it is not too hot.

Pour the white gelatin over the orange layer in each cup, approximately 1.5 tablespoons each.

Chill the Jello shots again until the white layer is set, approximately 2 hours.

When the white is set, make the green layer. Heat another 3/4 cup of water and bring to a boil.

Measure out 1/2 cup of the boiling water and add to the green gelatin in a small bowl. Stir to dissolve completely.

Add the remaining 1 cup of the chilled water whiskey mixture to the green.

Let cool slightly until not hot, but not setting.

Pour the green mixture on top of each cup portion, approximately 1.5 Tablespoons per cup.

Chill again until set or ready to serve, at least two hours.
Notes
A double shot glass holds approximately 4 Tablespoons of liquid, and the small cups hold approximately 4.5 Tablespoons. The exact size of each will vary with the exact cup or vessel you use to make the shots.
I use two ounce plastic cups which is the "normal" size for a Jello shot but you can use smaller or larger, which will also change the size of each portion and layer.
You do not have to measure how much of each layer you put in the cups. You can eyeball it but measuring will give you more even layers.
If your cups are slanted on the edges, you may need to add a little more of the mixture towards the top to get even layers since it is wider.
If you pour a new color on top of one that is already set when the liquid is too hot, it will start to melt the set layer and will not give you crisp lines. Make sure the mixture you are pouring is not hot.