This easy homemade Spiced Simple Syrup is a perfect sweet syrup for your cocktails, drinks, and dessert recipes. Made with warm spices in a sugar water mixture.
Why You Will Love This Recipe
Spiced simple syrup is a flavored syrup made by infusing traditional simple syrup with various spices.
Simple syrup is a basic sweetening agent used in cocktails, beverages, and desserts. It is typically made by dissolving equal parts of sugar and water over heat, creating a clear and sweet liquid.
This spiced simple syrup uses warm spice flavors that are perfect for winter recipes.
The infusion of these spices imparts a rich and complex flavor to the syrup, making it a versatile ingredient for various culinary applications.
Ingredients Overview
To make spiced simple syrup, you can add a variety of spices to the sugar and water mixture during the heating process.
Common spices used in spiced simple syrup include cinnamon sticks, cloves, star anise, cardamom, ginger, and nutmeg.
In this infused syrup recipe, we are using cinnamon sticks, whole cloves, and ground allspice.
Ground cloves can be used in place of whole cloves, as well as ground cinnamon if needed.
Feel free to adjust which spices you use based on what you have or your preference. But I find that this spice combination is a great neutral warm flavor to use in so many ways.
You can find the full recipe and quantities in the recipe card below.
Instruction Overview
You first combine your water and sugar in a small pot over medium to medium high heat.
Bring it to a simmer and let the sugar completely dissolve into the water.
Reduce the heat to a medium low and let simmer for 10-15 minutes. This will slightly thicken the syrup.
Remove from the heat, and add your spices.
Let your spices sit in the warm syrup for 30 minutes to infuse the flavors.
Store the syrup in an air tight container. It should be refrigerated if not using within a few days.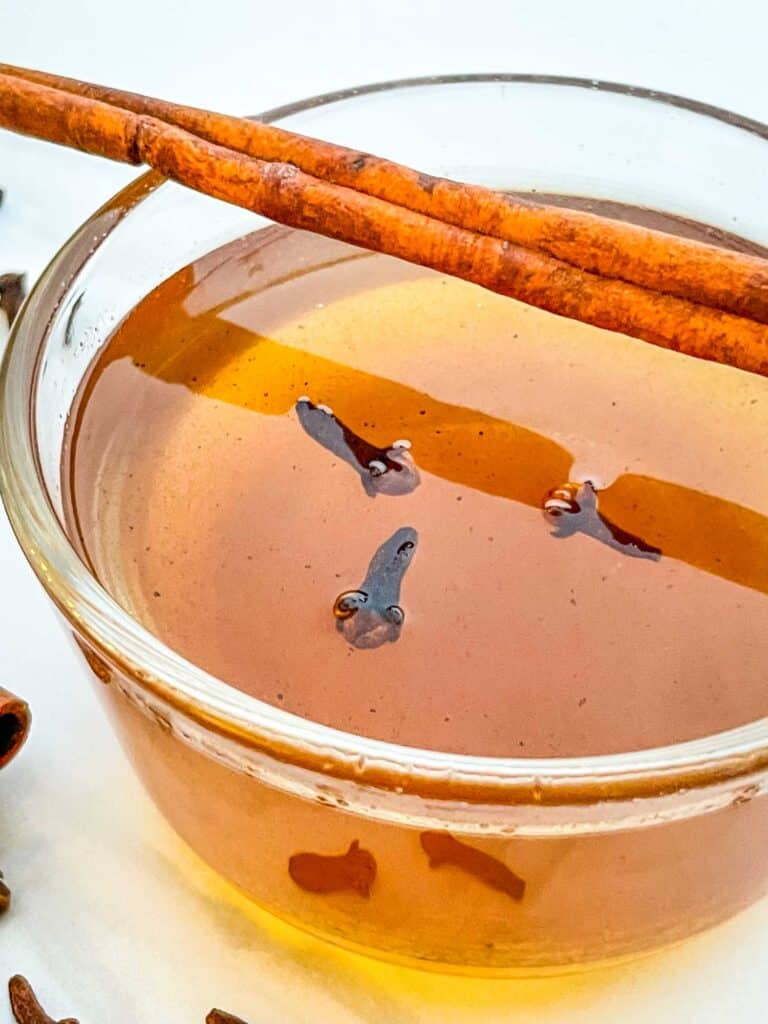 Using Simple Syrup
Once you've made spiced simple syrup, you can use it to add depth and warmth to cocktails, teas, coffee, or desserts. It adds a delightful twist to classic recipes and allows for creative experimentation in the kitchen.
I love to use this syrup for fall and winter cocktails, such as our Cranberry Orange Holiday Sangria! It will work great in any recipe that calls for simple syrup where warm spice flavors would pair well with the rest of the ingredients.
Store the spiced simple syrup in the refrigerator for an extended shelf life.
FAQs
How long does infused simple syrup last?
An infused simple syrup can last as long as three months in the refrigerator.
Does powdered sugar work for simple syrup?
It is best to use granulated sugar for the syrup. Using powdered sugar will result in a different sugar to water ratio, as powdered sugar is finer and more compact, making it sweeter. Powdered sugar also has cornstarch in it which will give you a cloudy and thicker syrup.
Do you have to refrigerate infused simple syrup?
Simple syrup should be refrigerated if you are not using it within a few days.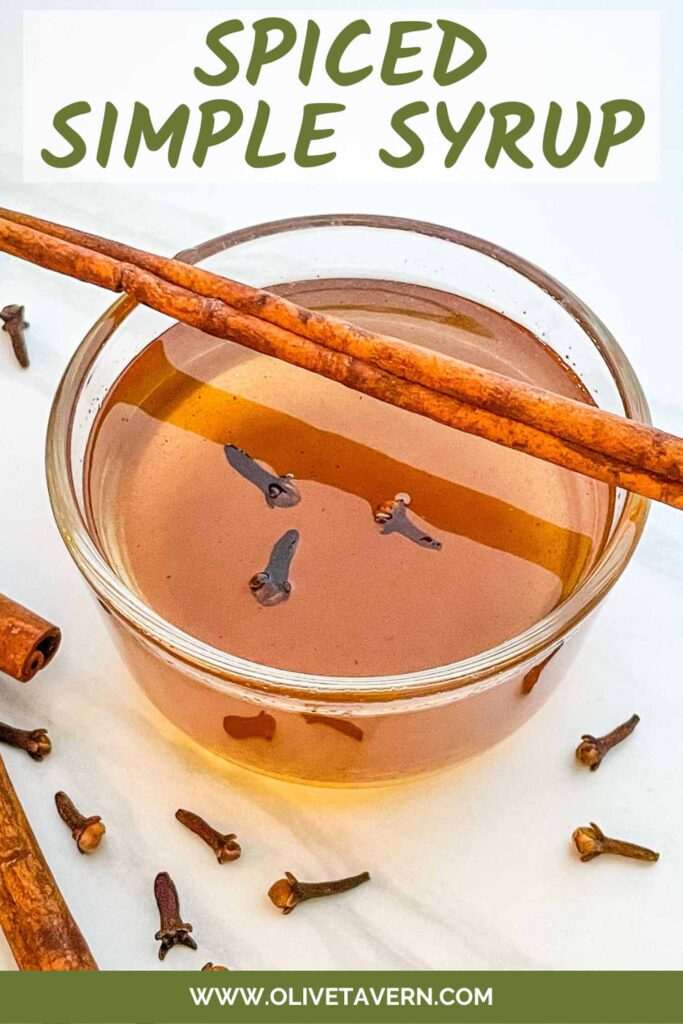 More Simple Syrup Recipes
Spiced Simple Syrup
Homemade Spiced Simple Syrup is a warm sweet infused syrup recipe perfect for cocktails, mocktails, drinks, and desserts. Made with cinnamon, allspice, and cloves.
Ingredients
water

granulated sugar

1

cinnamon stick

3

whole cloves

or large pinch ground cloves

¼

teaspoon

ground allspice
Instructions
Combine the sugar and water in a small pot over medium high heat.

Bring to a boil then reduce heat to medium low and simmer for 15 minutes.

Remove from the heat and add the spices. Stir to combine. Let sit to infused for at least 30 minutes.

Store the syrup in an air tight container. Refrigerate if not using within a few days. Syrup can last several months when refrigerated.